How To Find Best Accounting Firms in Kochi
Best Accounting Firms in Kochi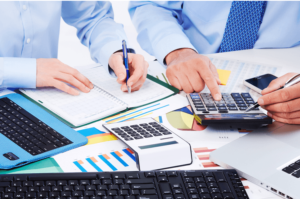 Why Accounting is Important?
Accounting is essential to run a business because it allows you to track revenue and expenses, ensure statutory compliance, and provide quantitative financial information to investors, management, and the government that can be used to make business decisions.
Your records produce three important financial statements.
The revenue statement tells you how much money you made and how much money you lost.
The balance sheet gives you a clear picture of your company's financial situation on a specific date.
The cash flow statement is a link between the income statement and the balance sheet that shows how much money was made and spent over a period of time.
If you want to keep your company stable, you must keep your financial records clean and up to date.
Before reaching out to an accounting firm, you should ensure, that it is literally 'the best accounting firm'. And how will you determine whether it is best or not?
Here are some facts:
Experience and Expertise of the Team
Confidentiality
Trustworthiness
Deadline Meets
Prohub Process Management Pvt Ltd having over 7 years of experience in the Accounting and Finance Sector, provides value-added professional Accounting and bookkeeping outsourcing services focused on the needs of your business. Our team of professional accountants will serve as the backbone of your business. We provide basic accounting services at a reasonable cost and within a set time frame. All company data will be kept safe and confidential. Our company has put in place legally binding security protocols to protect all of our clients' information. That's why we are one of the Best Accounting Firms in Kochi.
When you outsource your accounting and bookkeeping needs to us, you can rest assured that your data will be kept secure at all times. Generally Accepted Accounting Principles (GAAP) are followed by our accounting outsourcing team. We also keep binding quality cycles in place to ensure high-quality output in the shortest time possible.
Prohub Process Management Pvt Ltd, established in the year 2013, is an accounting firm in Kochi, India. It is one of the best accounting firms in Kerala. We know that accounting is a non-revenue-generating activity for your company. As a result, businesses strive to keep bookkeeping costs as low as possible. You should also ensure that Auditing and Bookkeeping are handled by a professional. We understand this need and have assembled a team of capable Accounting Professionals to meet your requirements. We concentrate on areas that are critical to the client's business. Prohub helps you to process your business and, we have the best accounting firms in Kochi.
We work with our clients to identify high-risk areas and formulate strategies to minimize the risk. We also communicate with them on a regular basis to provide information that allows them to make informed business decisions.
Team Prohub is a Bunch of dedicated and experienced professionals who serve a variety of business needs and are passionate about developing and adding value to their clients. Our strategy, execution, and communications are all founded on sustaining honesty and integrity. Our goal is to establish a long-term relationship with our customers. Anything less isn't going to last.
Every business and organization, start-up, seeded, mature start-up, small, medium, micro, growing, expanding, big, corporates, and the like, also including social ventures, associations, societies, or such small or big endeavors all need to be systematically managed with respect to Accounts, Finance, Statutory & Regulatory Compliances.
Prohub Process-the best accounting firms in Kochi provide comprehensive solutions for different organizations operating at different stages. The expert team at Prohub Process, have a unique professional approach to support businesses and entrepreneurs in all Non-Core activities that ensure smooth sail for their clients and clients' business.